The City Theatre 'Garibaldi'
Open from Monday to Friday: morning 9-13 / afternoon 16-20
The President of the Civic Council, later mayor of the city Calogero Gubernale, presented the proposal to build a theatre in Avola together with the City Hall in 1860, not long after the Risorgimento that led to the unification of Italy. Precedence was given to the Palazzo di Città and the decision to build the City Theatre was granted in 1869. The project was entrusted to architect Salvatore Rizza (Avola 1830-1895) and approved on 21 December 1870.
The Theatre had been something the people had wanted for some time. It was built on the foundations of a new church that the friars in the adjacent Monastery of St. Dominic had started work on but never finished.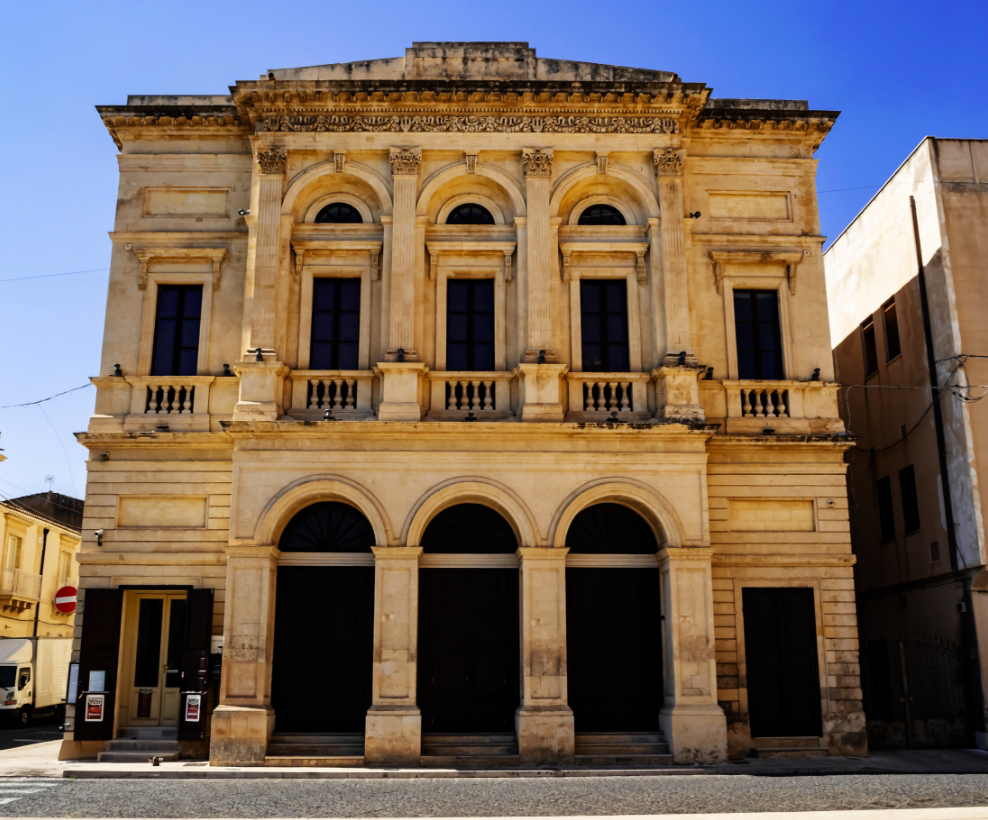 The building overlooked the Piazza S. Venera, which was renamed Piazza Teatro once it was completed. The elegant building is in the "Italian" style, in a horseshoe shape with three rows of stalls. Building began in March 1872. The architectural details were modelled on the theatres of Santa Cecilia in Palermo, with its façade designed by architect Giuseppe Di Bartolo Morselli, and La Scala of Milano by Piermarini. The mechanisms operating the scenery are the work of the engineer Fortunato Querian, who also worked on the San Carlo Theatre in Naples.
The paintings in the foyer are in tempera on "dry" plaster and are the work of Gregorio Scalia (San Gregorio di Catania 1844-Avola 1922). They depict Donizetti, Verdi, Bellini, Rossini, Petrella and Cimarosa. On the plafond or ceiling of the auditorium, Scalia painted the Dancing Muses and, in the proscenium, portraits of Alfieri and Goldoni. The gilded relief decoration on the parapets of the stalls by Rizza are the work of Giovanni Basile di Avola. The City Theatre was completed in splendid order in December 1875, and inaugurated on 20 April 1876. In 1882 it was dedicated to Giuseppe Garibaldi on the occasion of his death.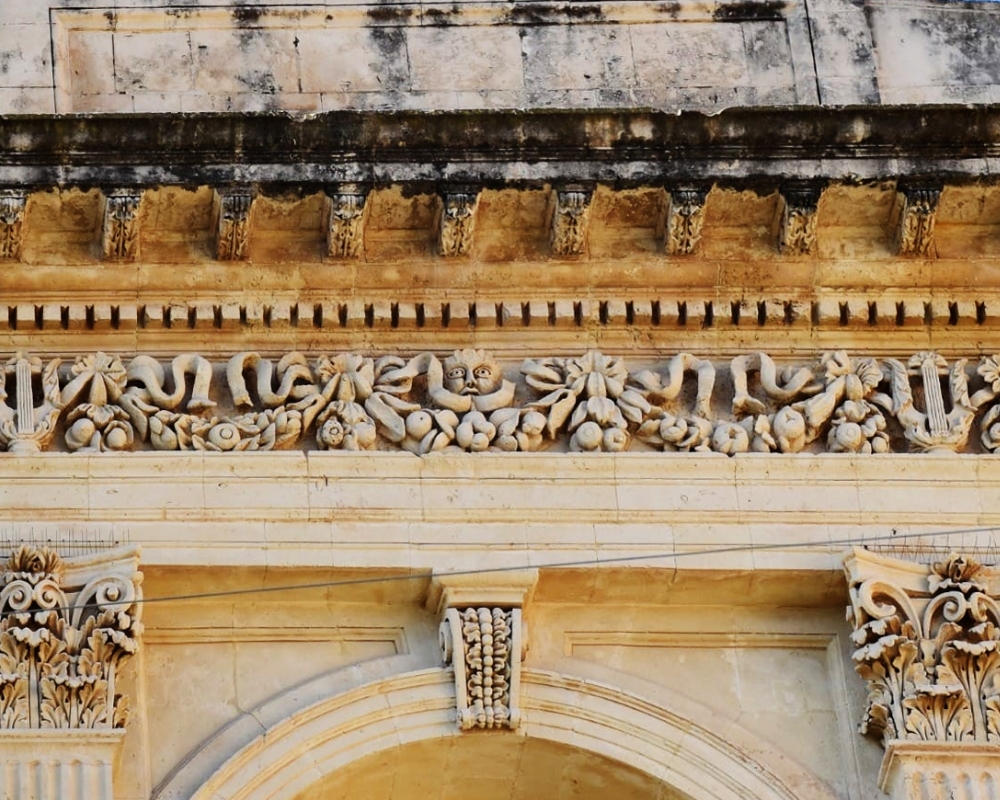 The neo-Renaissance facade is particularly worthy of note. It is made from carved stone with a golden patina. Three round archways lead into the building. Above these, on the upper floor, there are balconies with balustrades reminiscent of Palladio, while the space is broken up by pilasters topped by Corinthian capitals. The frieze above has sophisticated bas-relief swags. The fine theatre building fell into disuse after the second World War, and was renovated and re-opened to the public on 20 April 2011.
On the first floor there is a museum exhibition in the original "Concert Hall", which tells the story of the Theatre and its protagonists, in particular the musician and composer Salvatore Falbo (Avola 1872-1927), of whom there are mementos and musical scores. In the foyer a bust of the musician was installed in 2016.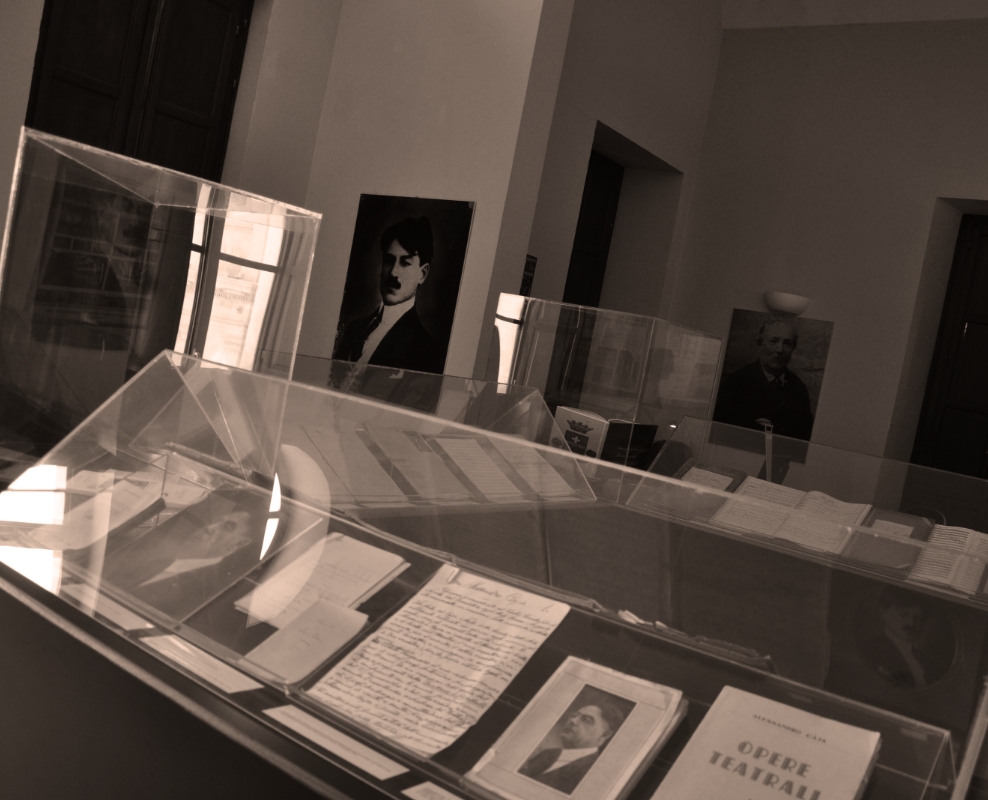 Explore the historic center of Avola!
Welcome to Avola, the hexagonal city! Explore the historic center.
Explore the historic center of Avola!
Welcome to Avola, the hexagonal city! Explore the historic center.