Church of St. Mary of Jesus
1693-1706; rebuilt 1760-1770
In the Castle that overlooked the old city, Charles of Aragon, Baron of Avola from 1483 to 1512, signed a notarial deed on 9 December 1509 to found the first Franciscan monastery on his Land, entrusting it to the Friars Minor. The site chosen was in the district delli Balzi, in the underling part the Porta delli Vexi and on the king's road. To the east it was close to the Troncello district and the entrance to the city from the sea.
The monastery church, dedicated to St. Mary of Jesus, became the site of the tomb of its founder and his daughter Antonina Concessa (1501-1537), who married Giovanni d'Aragona Tagliavia di Castelvetrano. In 1530 Charles V of Habsburg, King of Sicily, granted them the title of marquis over the barony and marquisate of the city.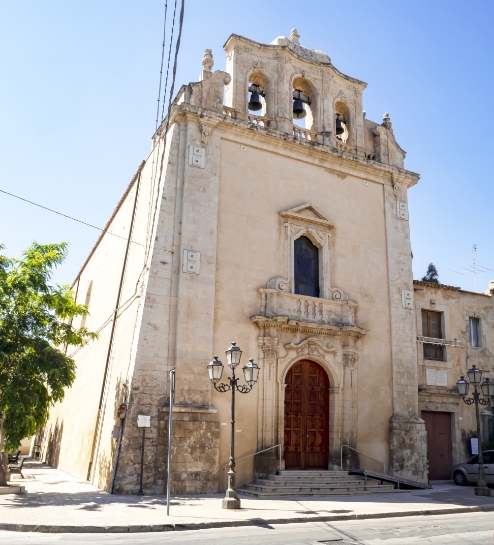 The buildings were destroyed in the earthquake of 11 January 1693. The church and the monastery moved to the new site again at the edge of the city, which was designed with a hexagonal layout and fortified walls by the Jesuit father Angelo Italia. Building work began immediately, and the church, complete with a crypt, also housed the tombs of the nobility. The date of 1706 engraved on the architrave of the door to the monastery, adjacent to the entrance to the church, in all likelihood marks the date the work ended.
In the years between 1760 and 1770 the church, with a single nave, was rebuilt. Then the portal and the elegant triple-arched bell tower of the straight façade, supported by two important responds, were added.   
Inside the church the main altar is a Rococo-style stucco structure with two twisted columns topped by a Gloria with putti. To the right of the entrance is a niche containing the sixteenth-century wooden statue Ecce Homo. The left wall has early eighteenth-century frescos of the saints Francis, Clare, Bonaventure and Anthony of Padua, with angels and cherubim. On the walls, as well as the exquisite paintings of the Via Crucis, there is The Blessed Virgin Mary with saints Francis and Rosalia, which dates back to between the end of the sixteenth century and the early decades of the seventeenth century. From a later period are Our Lady of Mount Carmel with saints, the Crucifixion and saint Liborius. The apse is decorated with paintings by Mario Bogani from 1991 and 2006. The chancel contains an organ built in 1845 by Felice Platania di Acireale, which was restored in 2006.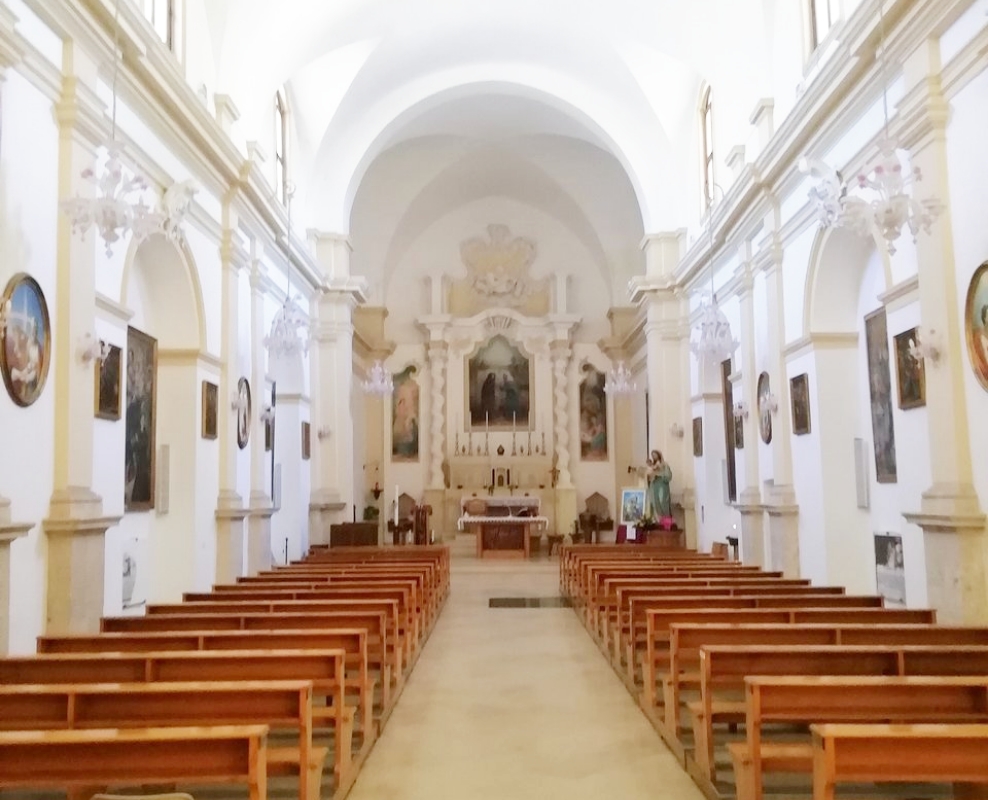 The monastery was closed in 1866, and the building became a police barracks. "Out of respect for the people and because of its importance as a place of worship", the church has remained in use.
Explore the historic center of Avola!
Welcome to Avola, the hexagonal city! Explore the historic center.
Explore the historic center of Avola!
Welcome to Avola, the hexagonal city! Explore the historic center.