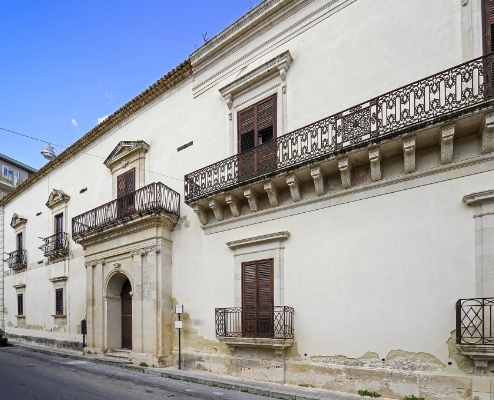 In the new city plan, designed by the Jesuit architect Angelo Italia after the earthquake of 1693, the lot of the Saint Venera district, where Palazzo Modica is located, was assigned to the townsman Corrado Antonino Di Giorgio (Avola 1666-1725). As a rich landowner, he built a holding of houses in several areas of land and buildings with iron balconies and a stone staircase with two Porticos, a large one to the south, in Renaissance style, and a smaller one to the north.
The complex, together with a bailey, three wells, storehouses and bordering on two public roads, houses and kitchen gardens in the same block, was divided between his four children. His grandson Corrado Di Giorgio (Avola 1749-1799), doctor in law and married to the Baroness Bartolomea de Grandis from Noto was responsible for unifying the building. In the 1770s he renovated the entire complex, tiling the Camerone (large room) with Neapolitan 'maduni' and hanging fine prints in the Study Room.
In 1805 the Palace was divided between his daughters Antonia and Marianna. The latter was married to Pasquale Loreto and received the portion of the Casa Palazzata (palazzo house) that was inherited in 1830 by her daughter Saveria, married to Baron Salvatore Munafò. The Baron restored the property to its original form, which was passed down to Itria, who married Michele Modica, Baron of San Giovanni da Spaccaforno (Ispica) in 1858.
The Modica family were responsible for raising the wing of the building located to the right of the main entrance on Via Marconi and creating the large Reception Hall decorated by Gregorio Scalia (San Gregorio di Catania 1844-Avola 1922) at the end of the nineteenth century. In 1906 two descendants took possession of the building, now called Palazzo Modica. Saveria, who received the eighteenthcentury part of the upper floor and Antonino, who, married to his cousin Carlotta Modica Nicolaci and owner of the Tonnara di Vendicari, had the new wing.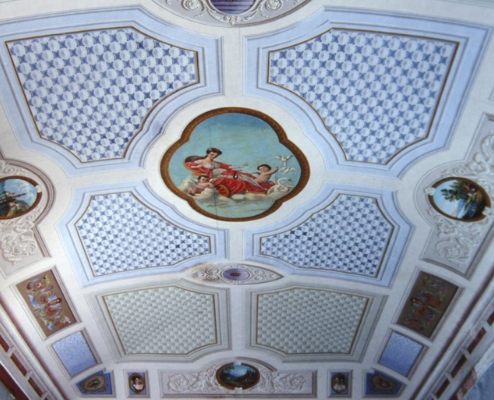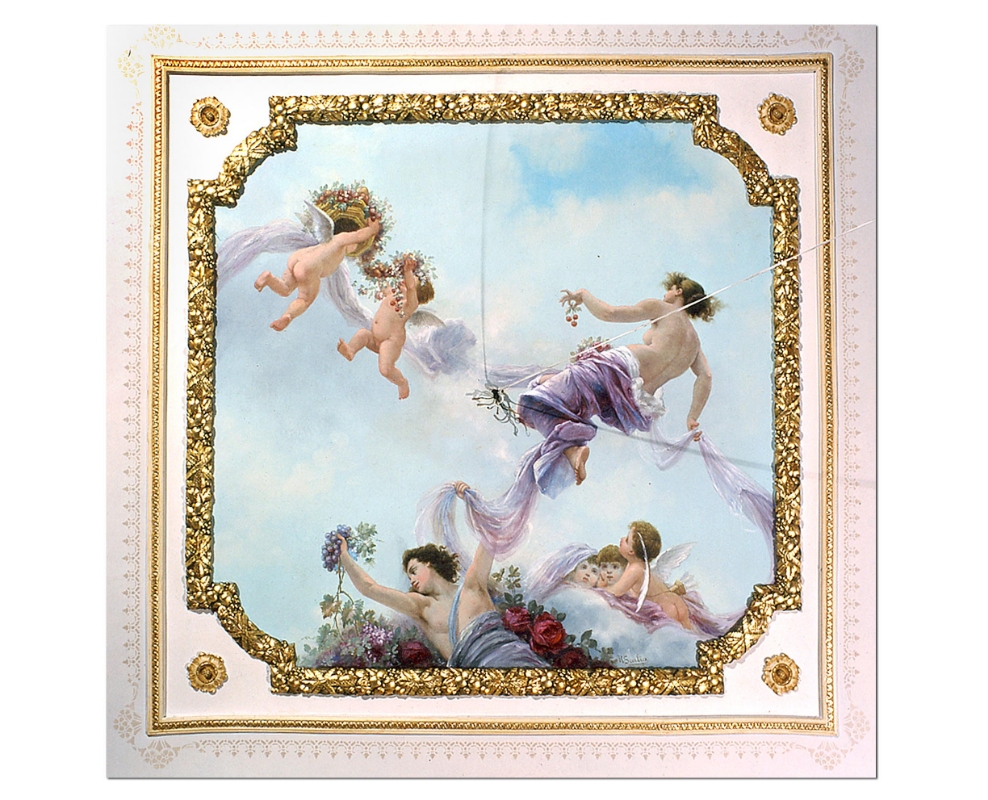 This was expanded by the Knight Antonino, on the east side of the Baglio, which in the meanwhile had been turned into a nice garden. The vault of the 'Stanza a mancè' in the upper floor was elegantly painted by Raffaele Scalia (Avola 1876- 1948), Gregorio's son.
The building became one of the most exclusive salons in the city and indeed the province of Syracuse. In 1940 it was inherited by Giuseppina Modica (1895-1992), Antonino's daughter. In 1961 her sister Maria Concetta (1908-1984) acquired the eighteenth-century wing. The "Modica Sisters" thus restored unity to the Palace, which since 1986 has been part of the architectural heritage of the Municipality of Avola.
Explore the historic center of Avola!
Welcome to Avola, the hexagonal city! Explore the historic center.
Explore the historic center of Avola!
Welcome to Avola, the hexagonal city! Explore the historic center.