Saccari Workshops (Trappeto di Cannamele)
1693-in use until the early 19th century
The "Trappeto" of Cannamele, located in the Sanghitello district, next to the Trappeto Mill and adjacent to the public road and Cava Bugliola, was a representative architectural structure of the feudal period between the 15th century and the end of the 18th century. Essential to the city's economy, it was also known as the "sugar mill" and served the sugar factory that extracted sugar from sweet canes, which were extensively cultivated in the irrigated lands of the feudal estates of the State of Avola. The Saccari Workshops, as described in the 18th century by the French traveler Jean Houel during his visit to the ruins of the city destroyed by the earthquake, were located at the foot of the Iblei Mountains. An engraving from 1756 in V.M. Amico's Lexicon topographicum siculum provides a graphic reference, offering a summarized overview of the different levels and spaces within the building.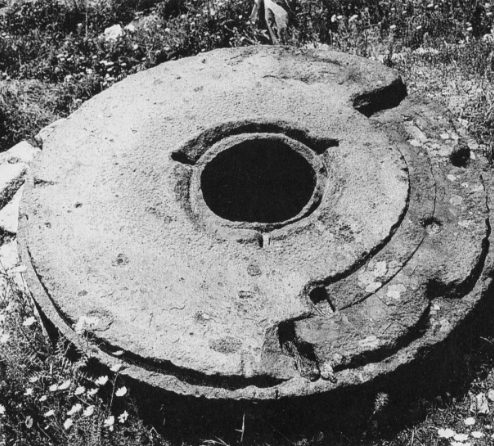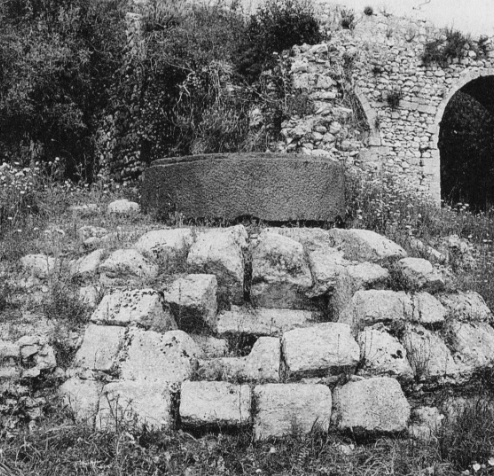 The trappeto is depicted outside the walls of the new city, after the Cenobium Cappuccinorum, in the direction of the old settlement.  Unfortunately, very little remains of the ancient structure: a recognizable semispherical dome made of thick white stones with a large central hole, similar to the one in a stone disc mill placed on top; part of the entrance emerges from the current ground level; and a basin with waterproofed walls is visible in the ground. It was the trappeto that welcomed the people of Avola after the earthquake, as they chose it as a shelter, meeting place, and place of refreshment, as sweet canes became crucial in dealing with the emergency and famine. The presence of the plantations also attracted people from nearby areas who not only consumed the canes but also used their leaves to create huts. Furthermore, the canes served as the basic material to prepare the initial lodging structures until wooden huts could be constructed. The closure of the Saccari Workshops coincided with the end of feudalism in Sicily.
Explore the Historic Center of Avola!
Welcome to Avola, the hexagonal city! Explore the historic center.
Explore the historic center of Avola!
Welcome to Avola, the hexagonal city! Explore the historic center.